Typically used in a sandwich enzyme-linked immunosorbent assay (ELISA), matched antibody pairs are sets of two antibodies that target distinct, non-overlapping regions or epitopes on the same antigen of interest. When one of these antibodies in a matched antibody pair is coated as the "capture" antibody, and the second antibody is used as the "detection" antibody, you can "sandwich" the protein of interest in an easy-to-use ELISA format. Proteins of interest can vary from immune markers to viral antigens, and even antibodies themselves.
Matched antibody pairs may use monoclonal or polyclonal antibodies as capture or detection antibodies. Once labeled, higher affinity monoclonals are great for the detection of subtle differences in antigen quantities. Adsorbed polyclonal antibodies are best suited for capturing as much antigen as possible. The use of antibody pairs enables very specific and highly sensitive antigen and analyte analysis, in addition to avoiding potential interference of primary antibody capture by labeling (used in the direct ELISA method). In some cases, self-sandwiching antibody pairs may be utilized if the target antigen is large enough to present multiple, appropriately spaced binding sites or epitopes to allow for adequate capture and detection. Matched antibody pairs are not only suitable for ELISA testing but may also be suitable for lateral flow assay (LFA) use or other related immunoassays.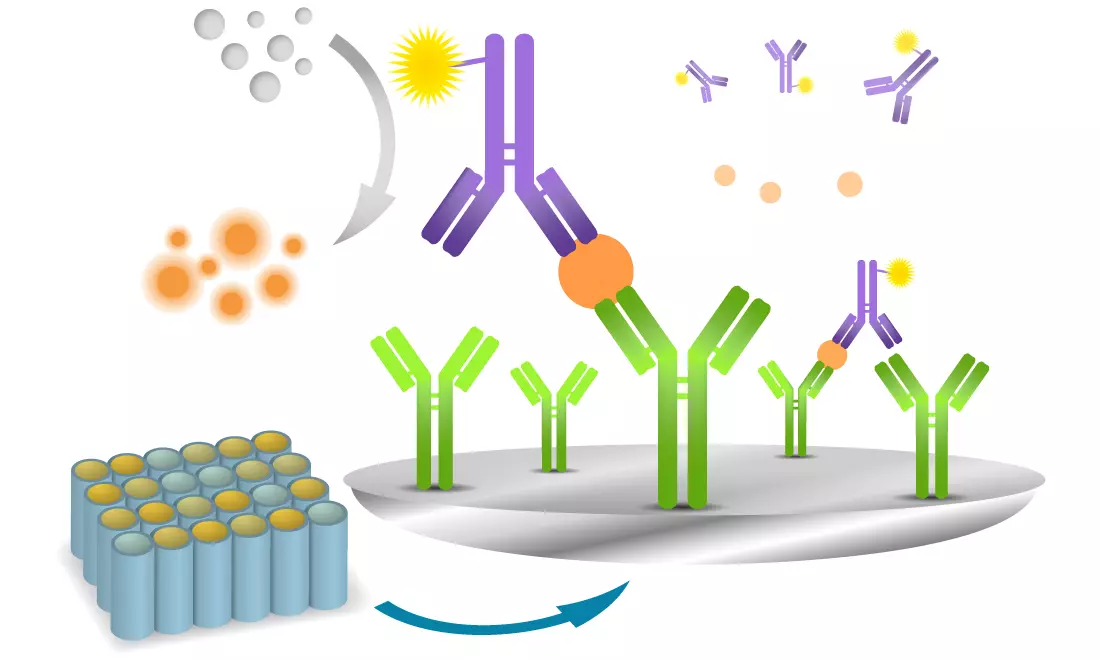 ELISA immunoassay
Sandwich ELISAs
ELISA kits are one of the most widely used enzyme immunoassay methodologies to detect antibodies or antigen in a sample. Originally described in 1971, the four basic formats used today are direct, indirect, competition, and sandwich methodologies. Each format is best suited for specific uses but primarily differs in which components are bound, how they are assayed, and their interpretations. Benefits of the sandwich ELISA method versus other ELISA methods include, but are not limited to:
Sandwich ELISA tests have approximately 2-5 times higher sensitivity than standard direct or indirect ELISA tests.

When compared with direct ELISA tests, sandwich ELISA kits have higher specificity for the antigen of interest because two antibodies are used for capture and detection.

Complex samples may be used in sandwich ELISAs since samples do not need to be purified before testing.

Sandwich ELISA testing also allows more flexibility with detection methods (direct or indirect methods may be used).

The Biorbyt team is prepared to help advise which antibody pairs or kits are best suited for your projects' needs.
Selecting Matched Antibody Pairs for Use
When selecting matched antibody pairs for use in a sandwich ELISA format, it is important to know the epitopes of each antibody and that the pairs are thoroughly optimized and tested for cross-reactivity prior to use. Purchasing your matched antibody pairs from Biorbyt, you can rest assured your capture and detection antibody pairs are ready for your research needs. For your sandwich ELISA, it is also necessary to determine what species of matched antibody pairs are needed for your project. Capture and detection antibodies have the capability to target multiple species of interest (i.e. human, mouse, rat, goat, etc.) and affinities may vary depending on the sample type used. Contact the Biorbyt team for any questions related to sample compatibility for matched pair antibodies or ELISA kits.